Energy Analysis
& Reporting
Engineered for building managers and facilities engineers, AcuCloud's professional-grade energy analysis and reporting tools are designed to provide actionable insights into the energy consumption of critical systems, individual loads, and entire facilities. Automatically generate powerful reports to share with stakeholders. With easy access to historical data and consumption patterns, insightful energy analysis is only a few clicks away.
AcuCloud's Insightful Energy Analysis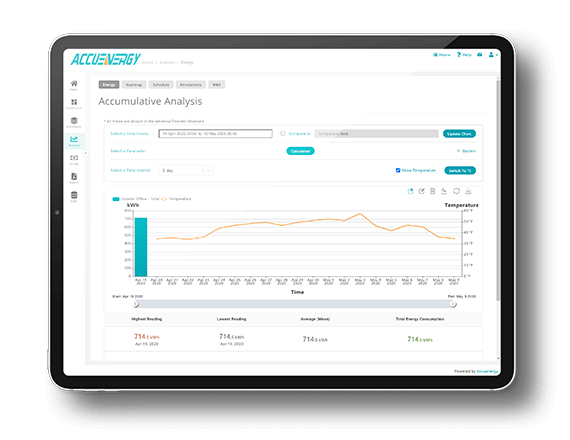 Data Analysis Features
Detailed Accumulative Energy Analysis
View the energy consumption for a given time frame or easily compare one time frame to another. Compare kWh consumption data against local temperature to accurately correlate energy usage and spot important trends, then export as an image for easy report creation or download as a CSV file to integrate into other datasets.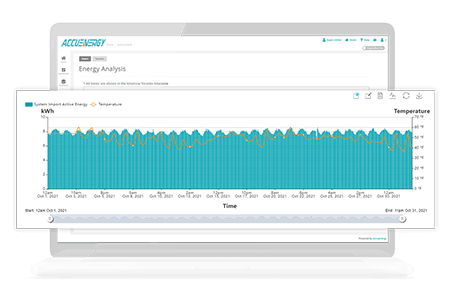 Heatmap Analysis
Use the powerful Heatmap tool to visualize periods of high or low consumption. The color gradient corresponds to energy consumption, making it easy to spot periods of high usage. Identify improvement opportunities and add annotations for a selected time period to add context to in-depth analysis.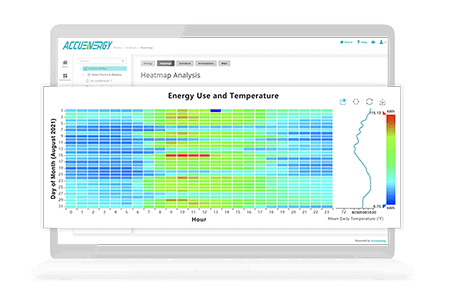 Operation Schedule Analysis
Perform an analysis of a facility's operating schedule to determine whether operational changes can make a significant impact to the bottom line. Make adjustments to energy consumption and customize the kWh charges to uncover practical savings opportunities.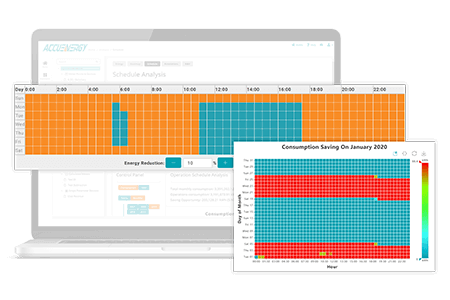 Custom Annotations
Keep track of important events, equipment upgrades, system updates, or other changes that impact energy consumption. Create detailed annotations to provide crucial insight into energy consumption patterns.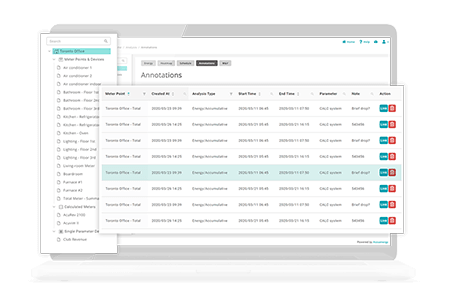 M&V Project Tracking
Create and track measurement and verification projects based on IPMVP Option B methodology—a retrofit isolation method designed to place emphasis on specific equipment or a system independent of the rest of the facility. The M&V tool helps to quantify energy savings estimates to understand comprehensive value of equipment or system upgrades.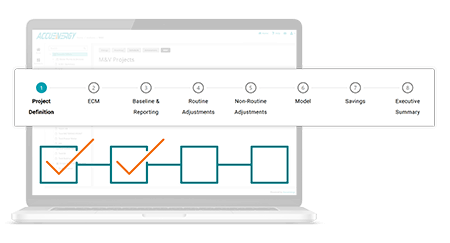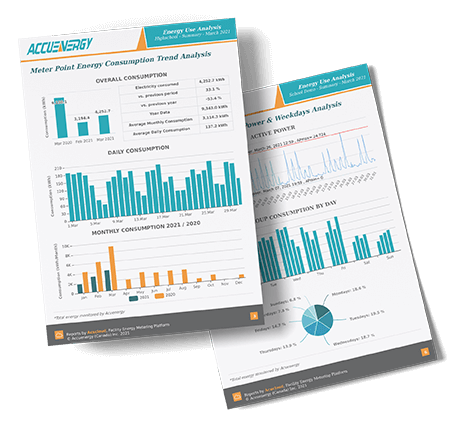 Create Powerful Reports
Generate a variety of powerful reports to keep track of essential information, such as consumption trends, top consuming meter points, month-to-month comparisons, and more. Each report provides easy-to-interpret, comprehensive data designed to accelerate critical facility decisions and maximize energy savings. Automatically create and send reports via email to keep stakeholders informed.
Pricing Plan
AcuCloud meter point plans offer organizations the most versatile options available. Choose any plan combination to suit your installation requirement. Each plans offer an unlimited number of metering points to allow organizations to scale up projects at any time.
STEP 1:

Choose an Organizational Tier

The organizational tier will determine the configuration of the dashboard, which analysis and reporting tools are available, and custom branding options.
AcuCloud
LITE
Select AcuCloud LITE Plan
NEXT STEP: Add A Metering Point Option
AcuCloud
LITE

Plan Selected
AcuCloud
PLUS
Select AcuCloud PLUS Plan
NEXT STEP: Add A Metering Point Option
AcuCloud
PLUS

Plan Selected