Panel Meters
Pre-configured, pre-wired power & energy panel meters reduce installation time & errors while providing an ideal solution for projects that require extreme protection from the elements.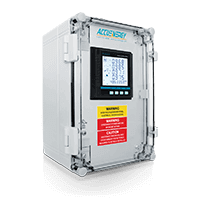 PANEL METER
AcuPanel 9100 Series
Custom pre-wired, pre-configured and pre-installed panel meter system. Includes factory-tested, color-coded wiring, shorting blocks for CTs, fused terminal blocks for voltage, & pre-drilled holes for conduit. Option of NEMA4 or NEMA4X rated enclosure for Acuvim II, Acuvim IIBN, Acuvim L, EV300, AcuDC 240, & AcuRev 2100.
Contact Our
Product Expert
×
Comparison
Table

Acuvim II
Series

High
Performance
Meters

Acuvim-L
Series

Economical
Meters

AcuRev 2100
Series

Multi-Circuit
Submeter

AcuRev 1310
Series

DIN-Rail
Meters

EV300
Series

Economical
Meters

AcuDC 240
Series

DC Meters

Application
Advanced
Metering Tenant
Metering
Integration &
Control
Cost-Effective
Submetering
Replacing Analog
Panel Meters
Multi-Circuit
Monitoring Multi-
Tenant Metering
Cost-Effective,
Revenue Grade
Metering
Economical,
Three-Phase
Metering
DC Metering DC
Monitoring
Electrical System
AC
AC
AC
AC
AC
DC
Power & Energy Metering

Demand, TOU

Individual Harmonics + THD

Advanced Power Quality

Data Logging

Expansion Modules

Communications Protocols
MODBUS RTU
DNP 3.0, BACnet
Modbus TCP/IP
Profibus
HTTP/HTTPs Post
SNMP V3 & More
MODBUS RTU
BACnet-IP
Modbus TCP/IP
Profibus
HTTP/HTTPs Post
SNMP & More
MODBUS RTU
BACnet MS/TP
BACnet
Modbus TCP/IP
HTTP/HTTPS Post
SNMP
SMTP & More
MODBUS RTU
MODBUS RTU
MODBUS RTU
I/O Options
Digital Input
Digital Output
Analog Input
Analog Output
Relay Output
Digital Input
Digital Output
Analog Input
Analog Output
Relay Output
Digital Input
Digital Output
Relay Output
One Relay output
for alarm and
remote control
Digital Input
Digital Output
Analog Output
Relay Output
Digital Input
Digital Output
Analog Output
Relay Output
Monitor Single Phase

Monitor Three Phase

Number Circuits
1x Three Phase
3x Single Phase
1x Three Phase
3x Single Phase
6x Three Phase
18x Single Phase
1x Three Phase
3x Single Phase
1x Three Phase
3x Single Phase
1x DC
Mounting Options
Panel DIN Rail
Panel DIN Rail
DIN Rail
DIN Rail
Panel
Panel