AcuCloud
Energy Management Software
AcuCloud is a cloud-based facility metering platform that provides users access to data from Accuenergy or any other power meter. Integrated with advanced features to streamline energy data management, it provides quick access to metered data plus tools to analyze, import, and export data to other systems.
Overview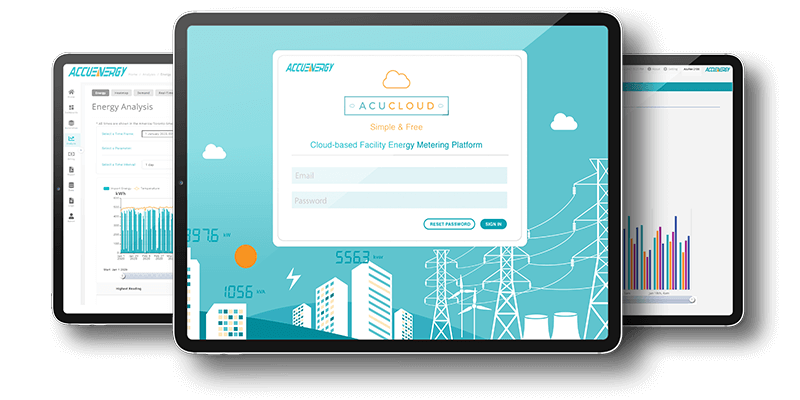 AcuCloud is an energy management platform that combines a feature-rich set of tools for monitoring and analysis with an efficient delivery of complex data in a user-friendly format. Designed for seamless integration with Accuenergy web-enabled devices or via the AcuLink 810 gateway for serial or third-party devices. AcuCloud is the complete solution for viewing, sharing, and analyzing energy data.
Pricing Plan
STEP 1:

Choose an Organizational Tier

The organizational tier will determine the configuration of the dashboard, which analysis and reporting tools are available, and custom branding options.
AcuCloud
LITE
Select AcuCloud LITE Plan
NEXT STEP: Add A Metering Point Option
AcuCloud
LITE

Plan Selected
AcuCloud
PLUS
Select AcuCloud PLUS Plan
NEXT STEP: Add A Metering Point Option
AcuCloud
PLUS

Plan Selected
AcuCloud Custom
Enterprise customers are invited to customize their AcuCloud experience by selecting a combination of features to suit any unique business requirement.
Features

Data Sharing + Integration
Successful energy management depends on the stable integration of energy data across platforms. AcuCloud makes it easy to forward all metered data to a 3rd party software system for analysis, reporting, billing, efficiency studies, or measurement & verification projects. Multiple data formats are supported.

Data Storage + History
Energy managers have access to energy data in unparalleled detail. AcuCloud stores the history for important energy parameters including per phase and system voltage, current, power, energy, power factor, demand, and pulse data in 5-minute intervals.

Powerful Data Analysis
Enhance the value of metered data with analysis from sophisticated cloud-based software. Simple, yet powerful data analytics tools provide actionable insights for energy management through trend monitoring, project tracking, system control, and more.

Convenient Alerts
When energy usage reaches a threshold or if a meter goes offline, a timely alert can be critical to ongoing facility operations. AcuCloud offers configurable email alerts that are automatically triggered.

Flexible Reporting
Collaborate with colleagues on critical facility decisions: AcuCloud features a powerful sharing tool which allows data to be downloaded & emailed for insightful project coordination. Easily send reports or choose from a range of valuable, pre-configured dashboards to target key energy management metrics.

Tariff Analytics
At a glance, see a 12-month overview of time-of-use consumption and allocation of energy usage during on-peak rate hours. Use the insight to shift consumption patterns to off-peak times to avoid tariffs and reduce monthly energy expenses.
FAQ
Do I need to enter a credit card to start a free account?
No, you do not need to enter any payment details to start an AcuCloud LITE subscription that only uses the FREE Meter Point Tier. A credit card will only be required if you choose to upgrade to one of the paid Organizational or Meter tiers later.
What happens at the end of my free trial?
Unless you upgrade to AcuCloud PLUS and/or the DATA LOGGER or BILLING paid tier levels, your subscription will revert to the AcuCloud LITE Organizational Tier and the FREE Meter Point Tier for all devices tracked within the AcuCloud system. You may resubscribe to a paid tier at any time.
Is there a limit to the number of meters I can connect to an AcuCloud account?
There is no limit to the number of meters that can be added to an AcuCloud account. Every account type permits you to track an unlimited number of meter points.
Is there a limit to the number of users I can add to an AcuCloud account?
You may give an unlimited number of users access to your AcuCloud account.
Can I connect 3rd party (non-Accuenergy) devices to AcuCloud?
Yes! The AcuCloud platform supports third party electrical meters or other meter types using the AcuLink 810 as a gateway device. Contact technical support for instructions.
If I sign up for a AcuCloud LITE account and the FREE Meter Point Tier, what's the process to upgrade to an AcuCloud PLUS account or the DATA LOGGER/BILLING Meter Point Tiers?
It is simple to upgrade to a paid tier level. You may upgrade within the AcuCloud software directly or contact a member of our sales team to customize the platform for your needs.
Can a single, multi-point instrument be subscribed at multiple Meter Point Tier levels simultaneously?
A single, multi-circuit device may be subscribed at multiple Meter Point Tier levels depending on individual project requirements. For instance, a single AcuRev 2100 may have some metering points subscribed at the DATA LOGGER tier and other metering points subscribed at the BILLING tier.