Mouseover to zoom-in






High Performance Power and Energy Meter
Quality engineered energy submeters provides a simple robust solution for power monitoring, power quality analysis, kWh metering, system integration, controlling power distribution systems & other speciality applications.
Level 2 DNP3 and IEC61850 2nd Edition
MV90 Support
8GB Datalogging and event storage
COMtrade Waveform format
Four different models for different applications
Revenue grade ANSI C12.20 class 0.2 & IEC 62053-22 class 0.2s
Built-in MODBUS RTU via RS485 port
Plug-in modules for BACNET, Ethernet, Profibus & WiFi
Optional data logging, time-of-use and power quality monitoring
Choose panel mount meter with digital display or DIN rail mount transducer
Free Cloud Metering Data Storage + Analytics
5 year warranty guarantee
Downloads:
The Acuvim II series digital power meters are customizable in a number of configurations to fit your application needs.
Accuvim II

Application
All-Purpose Use
Metering
400 Parameters
Acuvim II

R

Application
Data Logging
Metering
400 Parameters
Data Logging
Memory
8MB
Acuvim II

E

Application
Time-of-Use/Billing
Metering
400 Parameters
Data Logging
Memory
8MB
Time-of-use
Acuvim II

W

Application
Power Quality
Metering
400 Parameters
Data Logging
Memory
16MB
Power Quality
Acuvim II Multifunction Power and Energy Meters offers customizable features for your application.
---
NEMA 3 industrial grade weather-resistant enclosure protecting it against rain, snow & dust while displaying a large three line backlit digital LCD screen.
Optional field-swappable communications modules for BACnet, Modbus, DNP 3.0, Profibus and other protocols plus analog/digital I/O, alarms, & relays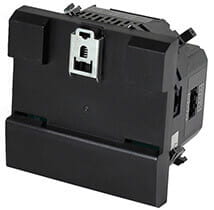 Optional DIN rail mount transducer form factor for system integration
Acuvim II Standard Model is MODBUS-RTU and DNP 3.0 ready. Our AXM line of pluggable expansion modules offer you the ability to customize your protocol choice.
---
Standard Model

MODBUS-RTU
DNP 3.0 RS485
AXM

WEB2

DNP 3.0 Over IP
IEC 61850
MODBUS-TCP
HTTP/HTTPs Webserver
SMTP Email
SNMP V2
HTTP/HTTPs Push
FTP Post
sFTP Server
Datalogging
Wireless
8 GB
BACnet-IP
WiFi
Dual RJ45 Ports
AXM

WEB

DNP 3.0 Over IP
MODBUS-TCP
HTTP/HTTPs Webserver
SMTP Email
SNMP V2
HTTP/HTTPs Push
FTP Post
sFTP Server
Datalogging
4 GB
AXM

BIP



HTTP/HTTPs Push
BACnet-IP
Integrate data to and from other devices with field expandable plug-in I/O modules.
---
The Acuvim II series offers these powerful multifunctional metering options.
---
Data Logging
Maintains a historical record of data for users to remotely monitor trends, analysis and reports with the capability to set threshold alarms in such applications as tenant and facility metering.
With AXM-WEB2, memory size expands to industry-leading 8GB memory with 1-second interval datalogging.
3 historical profile data logs
Up to 16 over/under limit alarms
Remotely monitor with AXM-WEB Ethernet communications module
Includes AcuView Software for meter communication and viewing data
Time-of-Use
Segment your peak hour kilowatt hour (kWh) usage for industrial, commercial & tenant facilities by setting a time-based or tier-based rate structure. Learn More
Time-based rate structures
Calendar-based rate structures
Demand-based rate structures
Tier-based rate structures
Any combination of the above
I/O options for relay or PLC control of load shedding processes
Power Quality Monitoring
Safeguard against system failures with harmonic analysis and advanced power quality event logging with waveform capture. Learn More
512 samples/cycle on each channel
Measures THD and harmonics to the 63rd
Up to 50,000 power quality events logged
Captures 20 cycles of waveforms from 3 voltage and current channels on each power quality event
Up to 100 groups of captured waveforms logged in dedicated internal memory
Acuvim II Series
DIN Rail Mounting Adapter
Acuvim II Series DIN Rails adapter provide easy installation of panel-mount Acuvim II series meter on DIN rail in all models and IO options.
---
IP66/NEMA4XAdapter

Protection Cover
The IP66/NEMA4X Protection Cover is designed for Acuvim II, Acuvim-L and all 96mm by 96mm display panel meters; it increases the IP environmental rating of a meter's display to IP66 or NEMA 4X regardless of the original rating of display.
The IP66/NEMA4X Protection Cover prevents damage from dust, water, and other elements when paired with Acuvim II and L series meters they become an effective solution for high protection-required applications, such as outdoor panels.
Note: To use the display keys, easily remove the IP66/NEMA4X Protection Cover as the seal is made of durable – tight grip rubber. Simply push back in place when you're done.
Get a special offer when you add optional split core or flexible CT form factors to your purchase
---
Pre-Wired
Panel Solutions
We will install, wire and test your power and energy meter for you.
---
AcuPanel 9100 Series
For a faster, easier installation, order your Acuvim II series power meter in a watertight NEMA-4 or corrosive resistance NEMA-4X rated panel enclosure which ships to you pre-wired and pre-configured by the factory.
Learn More
Acuvim II Series
Applications
The Acuvim II is specially designed for these applications.
---