AXM-WEB2 WIFI Ethernet Communication Module
Mouseover to zoom-in

Acuvim II Meter
WiFi + Ethernet Module
AXM-WEB2 Communication Module
AXM-WEB2 provides fast and reliable dual Ethernet ports and WiFi communication channels for Acuvim II Series power meters. Supports a wide range of communication protocols such as Modbus-TCP/IP, HTTP/HTTPs Post, FTP, sFTP, BACnet-IP, DNP3 V2, SNMP V3, IEC61850 2nd edition, SMTP and NTP time synchronization.
Native support of Ethernet/IP protocol, seamless integration with Allen Bradley and Rockwell Systems
IEC 61850 protocol 2nd Edition
IPV6 and IPV4 dual IP network support allows for more connected devices
Custom Modbus register list to group key parameters continously
Maintain high availability by RSTP protocol with two ports connect to same subnet
Log Max, Min and Average on all parameters at all logging intervals
Firmware OTA update
Daisy-chain Ethernet ports (RSTP Protocol)
Support for WiFI WPA, WPA2 Enterprise security protocol
Remote meter access via SerialNumber.accuenergy.io
Dual Ethernet RJ45 port with individual network configuration
Dual Ethernet ports and WiFi work simultaneously with different networks and data acquisition systems
COMtrade format for waveform capture
8GB onboard memory with 1-second interval datalogging capabilities
Industry-leading 100ms and 40ms response rate via Modbus-TCP/IP protocol
Secure HTTPS data encryption to cloud server
SSL encrypted webserver plus TLS 1.2 compliance for industry-leading cybersecurity standard
Metering data backup log to avoid data loss during network downtime
Support industrial, utility and substation protocols IEC 61850, DNP 3.0 V2, Modbus-TCP/IP, SNMP, HTTP/HTTPs Post, FTP & SNTP
Built-in sFTP server for data-log storage and retrieval.
Web accessible graphical display of historical data trends for all parameters for analysis
WiFi supports Access Point mode and Station mode for both direct connection/configuration and public WiFi network connection
Downloads:
AXM-WEB2

WIFI + Ethernet Module
Connect Acuvim II Series power and energy meter to the AXM-WEB2 module for WiFi and dual Ethernet capabilities.
---
Transmit Fast Encrypted Energy Data to Server
Protect sensitive data communication with secure HTTPS data encryption. Allow only authorized access to owners and managers. Acuvim II can be connected to any facilities' WiFi network with enterprise-grade authentication.
Cross-Platform Support For Various Devices
Access your Acuvim II power meter anywhere at SerialNumber.accuenergy.io. AXM-WEB2 allow users to access Acuvim II's web panel remotely without the need for IP and port forwarding or open up firewall with new remote access feature.
Monitor real-time metering data anytime, anywhere with web-accessible devices such as laptop, tablet, and mobile devices.
Class-Leading Security
Fully encrypt and authenticate data communication between energy meters and data server. AXM-WEB2 supports leading HTTP web security standard TLS v1.2 and SSL HTTPS encryption. WiFi communication is authenticated through WPA or WPA2 enterprise security protocol.
Reliable Backup Data Logs
Prevent data outages from network downtime or any other possible communication issues. AXM-WEB2 pushes data via HTTP post, HTTPS post, or FTP to your server or energy management system (EMS). Data are logged locally on the module until all data are successfully posted to the server to ensure data integrity.
Fast Modbus-TCP/IP Response Time: 40ms
AXM-WEB2 module provides a fast communication protocol within 40ms that enables Acuvim II series power meters to make real-time updates to key parameters such as line and phase voltage, current and power readings via industry de-facto Modbus-TCP/IP.
Out-of-Box Two-Level User Control
Administration Level Management
Robust administrative settings that give you full control over how the application will be implemented within your project.
Manage metering settings for voltage wiring, current wiring, real-time reading options and more.
Configure communication for network, E-mail, SNTP, HTTP/HTTPS/FTP Post
Reset data collection
Get the latest firmware upgrades
User Level Monitoring
Easy accessible real-time data for energy managers to monitor and determine power and energy integrity across your project application without compromising unauthorized security.
Easy-To-Use Web Interface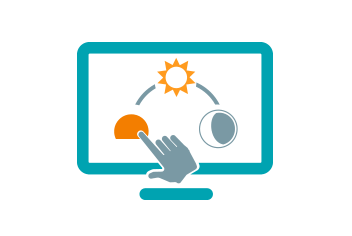 Monitor metering data anytime, anywhere with our user-friendly web interface. Accessible on any browser client and a web-enabled device such as mobile, desktop or tablet no matter where you are.
Monitor real-time power metering data and system performance to ensure critical decision-making are made in time crucial environments.
Access full reports to help manage power (kW) and energy (kWh) metering usage, peak current (amp) & power demand cycles, and power quality harmonics to optimize your systems energy efficiency.
Professional and friendly support is available to guarantee your project is on schedule and never compromised.