Introduction
At the most basic level, IEC 61850 is a protocol for power and energy equipment. This protocol was developed originally for utility use and has since expanded out of the substation to transmission, distribution, automation, and other applications.
Differences
Master-Slave vs. Report Client
Traditional protocols have long since worked with the request-answer format as seen in Modbus, DNP, and others, but this form of communication can have increased latency with additional devices within a network. IEC 61850 eliminates latency especially working among many systems as this protocol communicates with a report-client format in which the devices pass information as soon as it is received rather than wait to be questioned. Additionally within the IEC 61850 network devices can connect with other devices rather than connecting only to the master device taking communication out of the silo.
Interoperability
In traditional applications, there are many different brands working together within a system; each brand may have a different set of registers or even protocols that all need to work together towards a single goal. Using this method requires hours of engineering time spent mapping devices, reading manuals, testing connections, and gathering information in protocol converters, but using IEC 61850 eliminates the need for these complications by utilizing;
Export Mapping Files – All of the device registers are already mapped internally and can be pushed thus eliminating the need to manually map out the registers of the device
Brand-agnostic solutions – IEC 61850 registers are pre-mapped and all devices are able to communicate over the same network this means that the communication variable becomes a fixed asset regardless of brand or manufacturer and the device can be selected based on best-fit independent of the other devices in the project or network
Benefits / Outcomes
Integration time is greatly reduced since there is no register mapping and excess communication/compatibility testing
Simplified specification as brands and manufacturers no longer have to be taken into consideration as how they will interact with each other provided the capabilities to meet the specification and they use IEC61850
Faster project operation as devices are able to utilize the report-client method rather than the master-slave method; this means that communication happens in real-time rather than waiting to be queried
IEC 61850 + Accuenergy
The AXM-WEB2 module's list of protocols include the IEC 61850 which can be paired with any of the Acuvim II series meters for a powerful and versatile solution which limits integration time, improves project performance, and can easily be deployed in existing projects. Pairing the Acuvim II series meters with the AXM-WEB2 module creates a powerful and versatile solution which has additional benefits of high accuracy, multiple CT inputs such as flexible Rogowski coils, multiple form-factors available, and over 400 measurement parameters. To find out more about the AXM-WEB2 or the Acuvim II series meters follow the links below.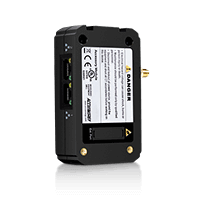 AXM-WEB2 WiFi & Dual Ethernet Communication Module
Specially designed for fast and reliable data transmission using AXM-WEB2 built-in dual Ethernet ports and WiFi communication channels for the Acuvim II power & energy meter. Supports a wide range of protocols such as Modbus-TCP/IP, sFTP, BACnet-IP, DNP3 V2 and IEC61850 2nd edition.