Introduction
Modbus is a serial communication protocol on the application layer used to transmit data between electronic devices used in the industrial automation and control industry. Wireless Modbus provides an added layer enabling Modbus devices to transmit information wirelessly. This can be designed for any type of Modbus including two of the most common options – TCP/IP and RTU. RS485 is a standard defining the electrical characteristics of drivers and receivers for use in serial communication systems. This standard is commonly used in commercial buildings and industrial environment for energy management and building automation applications because it can be used effectively over long distance and electrically noisy environments. RS485 standard is often used in a master-slave arrangement- when one device, the master, initiates all communications activity, and controls the slave devices connected to it.
Difference
Modbus RTU (RS495 and RS232) is still the most commonly used implementation in industrial automation due to cost and practicality. It uses a Master/Slave configuration to communicate between devices. Master devices such as DAQs poll field sensors and meters by sending a request to receive a status response at regular intervals. Modbus RTU does this through a serial communication protocol that sends binary data (1 and 0) sequentially from the master and slave. Slave devices do not communicate with other slave devices. Modbus TCP/IP runs on the Ethernet over the TCP interface transport layer utilizing the improvements in speed and number of connected devices. Ethernet, unlike serial communication, sends data via packets over a TCP/IP network.

Benefits/Outcomes
Support for multiple Modbus options – RTU and TCP/IP
Simultaneous support for Ethernet, RS485 and RS232
Easier to install, maintain and update
Trouble-shoot issues remotely
Wireless Modbus and Accuenergy
The AcuLink 810-900 and AcuLink 810-868 data acquisition device can be transformed into a wireless master in a standalone network by polling connected electronic devices and store the data either internally, post to software, or server. It is able to communicate using the Modbus protocol. The built-in Mesh features create a user-friendly setup and troubleshooting process with all information located on a single platform. AcuLink 810 has the ability to communicate directly with AcuMesh devices using either an 868MHz or 900MHz channel. The Mesh-enabled unit features local configuration, scan & configuration, and diagnostic tools otherwise only available in the AcuMesh setup software.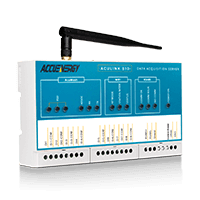 AcuLink 810 Data Acquisition Server
Accuenergy's AcuLink 810 is a data acquisition server and gateway designed to collect aggregated energy data from up to 32 Modbus meters and field sensors in a facility such as water, gas and electricity. This information is locally stored until it is ready to be distributed to remote servers or controllers via an IP-based network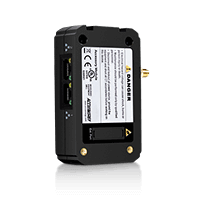 AXM-WEB2 WiFi & Dual Ethernet Communication Module
Specially designed for fast and reliable data transmission using AXM-WEB2 built-in dual Ethernet ports and WiFi communication channels for the Acuvim II power & energy meter. Supports a wide range of protocols such as Modbus-TCP/IP, sFTP, BACnet-IP, DNP3 V2 and IEC61850 2nd edition.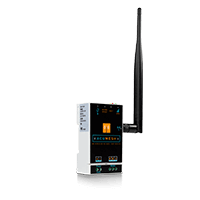 AcuMesh Wireless RS485 Transceiver
The Acumesh Wireless RS485 connects any Modbus-RTU device with a RS485 port to form a point to multi-point mesh network. It is ideal for buildings and systems that monitor energy flow, industrial automation and campus facilities. AcuMesh transceiver eliminates the usual wires in a RS485 installation by using a flexible and simple wireless communication solution.