Top 5 Reasons to Use a Rogowski Coil
After choosing a suitable energy meter, it is critical to pair it with the right current transformer for your application. In addition to examining accuracy and amperage range, unique installation site challenges, such as available physical space and conductor size, must also be considered. Here are five reasons that a flexible Rogowski coil may be the ideal current transformer for your next project.
1 – Wide Current Sensing Range
When compared to a split-core or solid-core CT, Rogowski coils feature the widest current sensing range available. Rated to measure from 5A to 50,000A, regardless of coil length, Rogowski coils can easily adapt to nearly any application and are the ideal choice for high amperage installations, such as building mains in commercial or industrial facilities.
2 – Flexible Form Factor
The flexible, rope-like coil is ideal for measurement in electrical panels or switchgear where conductors are grouped tightly together. Bend and contour the coil to fit around wire bundles or irregular sized busbars where rigid body current transformers simply cannot fit. The coil and connector are easy to use, even in gloves.
3 – Various sizes available
Rogowski current sensors are available in four standard coil lengths, suitable for nearly any conductor size: 16", 24", 36", and 47". Custom length coils are also available for specialized applications. Longer coils can be double wrapped for additional measurement resolution. From small cable bundles to wide busbars, there is a Rogowski coil length ideal for deployment in any facility.
4 – Save Time on Installation
A Rogowski coil's flexible form factor and wide amperage range make it easy to integrate into even challenging installations, reducing the time spent on-site for deployment. In addition, the large, accommodating sizes make it easier to adapt to unforeseen installation challenges, reducing the need to return or replace parts and eliminating unnecessary truck rolls.
5 – High Accuracy & Linearity
Rogowski coil CTs provide high accuracy readings across the entire measurement range. Achieve 0.5% accuracy that is ideal for demanding applications that require high precision data. Pair with a revenue grade power meter to achieve maximum results in commercial, industrial, or high-density residential applications.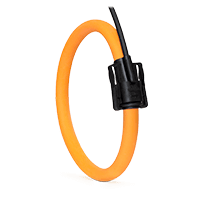 AcuCT Flex Rogowski Coils
High specification line of flexible current transformers that measures AC current for power metering, power quality analysis and general use. The Rogowski coil provides a versatile solution when space is limited and requires a rope-style CT to physically wrap around a irregular shaped conductor or wire.