Buildings Week 2020 presented by The Building Show & BUILDEX
Buildings Week is coming together from November 30 – December 4, 2020 to host the premiere virtual event for facilities professionals across Canada, North America, and internationally. Brought to you by The Buildings Show and BUILDEX Alberta, experts from across the industry including construction professionals, facilities managers, engineers, real estate developers, and design specialists. Attendees will be able to access the event online at the convenience of their laptop. Discover the latest industry trends and develop new business opportunities at a click of a button.
There will be many exciting events to explore ranging from amazing presentations and keynote sessions to discovering new products and technologies. Each day over the five-day event there will be over one hundred seminars on a variety of topics such as intelligent buildings, smart cities, cloud technology, energy analytics, and much more. Attendees can connect with colleagues, explore virtual exhibits, and browse the online marketplace to learn about the latest innovations.
Accuenergy will be hosting an online exhibit and displaying its line of trusted metering products, including the new AcuRev 2100 multi-circuit meter, used in smart buildings across North America. Our meters can be integrated into any building automation system to accurately measure and monitor energy consumption at a very granular level. Verify your energy usage to mitigate waste to save on overhead electricity costs.
Our list of products includes:
Power and energy meters
Revenue-grade current sensors
Data acquisition servers and other network communication devices
Cloud storage and energy analysis software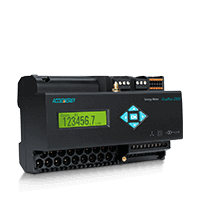 AcuRev 2100 Multi-Circuit Power & Energy Meter
Next generation multi-circuit meter designed to measure up to 18 single-phase or 6 three-phase circuits using SnapOn CT technology for easy installations in high-density, multi-point applications. Monitor real-time energy usage & perform power quality analysis in multi-tenant buildings.