Advantages of a Multi-Circuit Submeter
Multi-circuit submeters are sophisticated instruments designed for easy deployment in high-density, multi-point applications. Suitable for multi-tenant energy management systems, multi-circuit submeters are well suited for commercial, industrial, and residential installations where simultaneous measurement across multiple circuits is required. From a wide range of communication options to power quality monitoring, learn which key features are essential when choosing a multi-circuit submeter for your next project.
1 – High-Density/Branch Circuit Metering
Ideal for high-density or branch circuit monitoring applications, multi-circuit submeters are capable of monitoring multiple single-phase or three-phase circuits simultaneously. Capture energy consumption for the entire electrical panel, including building mains and individual circuits, to gain a comprehensive understanding on facility-wide energy usage. Separate circuits by tenant or system for a refined, granular perspective.
2 – Multiple Communication Options
With an integrated communication module, multi-circuit submeters offer industry-leading communication options for easy integration into any industrial or commercial system. Remote meter access, dual Ethernet ports, and WiFi communications ensure metering data is accessible in real time. In addition, support for all industrial protocols including Modbus TCP/IP, BACnet IP, SMTP, HTTP/HTTPS Post, FTP & NTP, SFTP, SNMPv3, and RSTP are crucial to building management system integration. Accessing the submeter through a secure, encrypted HTTPS webserver provides convenient remote access, reducing required site visits and saving time.
3 – Non-Volatile Memory for Logging Energy Data
Network outages can impede communications between multi-circuit submeters and building automation systems, resulting in detrimental gaps in metering data. To prevent data loss, multi-circuit submeters that are equipped with onboard, non-volatile memory can securely store valuable real-time energy data, power quality information, and I/O status so that it can be safely downloaded at a convenient time.
4 – Full Featured PQ Monitoring
Regular power quality metering is an essential part of a complete energy management strategy and helps facility mangers to protect sensitive equipment from power quality issues, perform preventative maintenance, and save money. Sophisticated multi-circuit submeters include a comprehensive suit of power quality monitoring tools including voltage and current THD, individual voltage and current harmonics up to the 31st order, voltage crest factor, current K factor, as well as voltage and current unbalance. Real-time, continuous power quality measurements are critical to identifying issues that spot checking or temporary power studies can miss.
5 – Compact Size
When choosing a multi-circuit submeter, it is important to consider the size of the instrument. Many installation sites have limited space available for large enclosures which can result in complex, costly installations that require additional conduit, cables, and wiring. An efficient form factor allows the submeter to be easily integrated into a compact industrial cabinet or enclosure that can be located close to the load, minimizing cable runs and other installation challenges.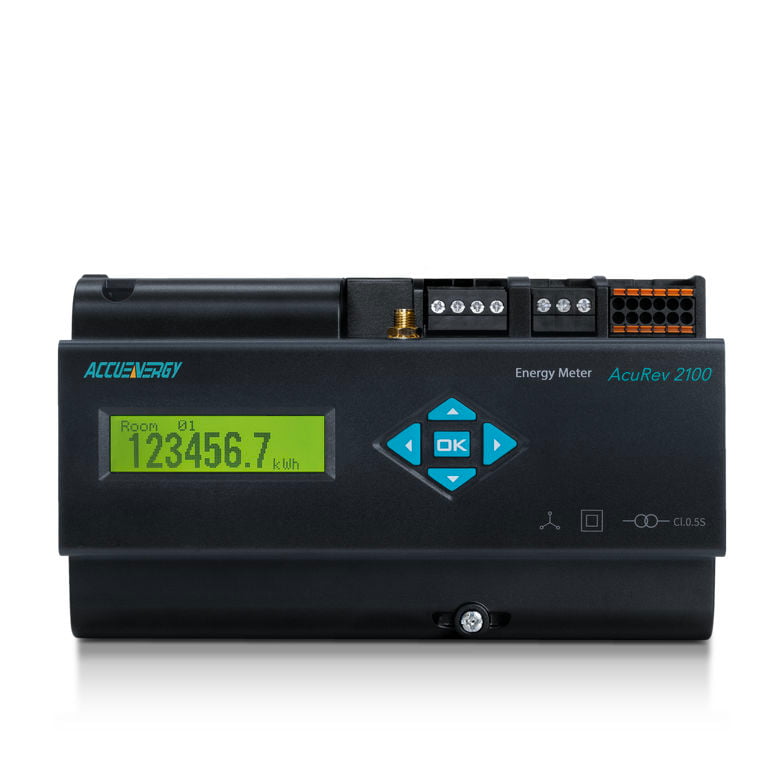 AcuRev 2100 Multi-Circuit Power & Energy Meter
Next generation multi-circuit meter designed to measure up to 18 single-phase or 6 three-phase circuits using SnapOn CT technology for easy installations in high-density, multi-point applications. Monitor real-time energy usage & perform power quality analysis in multi-tenant buildings.